The Issues
Job Creation
The job of Governor is not about the halls of power at the Capitol, the trappings of office, or getting your way on every bill or budget. It is about service to your citizens. What our citizens need right now are jobs. This should be the number one priority of our leaders. And I do believe economic recovery is on the horizon. What has been our greatest liability will become our greatest asset in the future. The fact that we are overbuilt on homes and commercial property means that our real estate is very affordable again. And Arizona is still a great place to live, work and raise a family.
I believe in a low, flat tax system that is equitable to all. Our government needs to get out of the business of picking winners and losers in the marketplace. Too often our leaders go elephant hunting, handing out taxpayer money to capture headlines by nabbing big name companies. What we need are low, flat taxes to encourage new investments from businesses of all sectors and sizes. For example, currently, Arizona has the fourth highest commercial property tax in the country. It's very expensive to put capital to work in Arizona because of our property tax system. That makes it very difficult to attract capital intensive businesses.
---
Education
Education is a top priority. As the son of a math teacher I know that we need to put classrooms first, not administration. We need to reduce the bureaucracy in education so we can be more effective with limited taxpayer resources. By block granting money to individual districts, they can have more local control over their resources. We also must look at creative ways to attract and retain quality teachers for our children.
For higher education we as a state need to do two things. First, we need to provide a stable and long-term plan for university funding. Second, we need to tie the four-year schedule for a student to a four-year budget of fees and tuition. So when you're a student and you enroll, you know exactly what it takes, both in classes and in cost, to graduate.
---
Immigration
It is unacceptable that our borders have been allowed to become so porous that criminals can operate with near impunity at the border and that lives and properties are literally at stake. Years ago, I proposed legislation to deploy the National Guard along with radar camera equipment and the construction of a physical fence along the border. Unfortunately, our former Governor, and now Secretary of Homeland Security vetoed these attempts to secure our border.
Now our current Governor, who has been in office more than a year, has done little to secure our border and, simply points the finger at Washington. Arizona needs to secure our borders, even if the Federal government won't. Our citizens want the job done and they do not care who does it. We can always send our friends in Washington a bill for our services.
Read Treasurer Martins press release invoicing Governor Napolitano
---
Healthcare
For too long Arizona has cared more about how many people we can enroll in the state-run healthcare system rather than focusing on reducing costs and improving care. We need a cultural change in Arizona that redefines success not by the number of people we help, but by the number of people who no longer need our help. This can be accomplished in a number of ways:
Reform our tort system to do away with frivolous lawsuits and lower costs.
Use technology to streamline and help cut down associated costs and improve care.
Modernize our state healthcare programs to save jobs and prevent billions in costs shifts. Click Here to read Treasurer Martin's healthcare modernization proposal.
---
Video of the announcement
DEan Martin announces his run for governor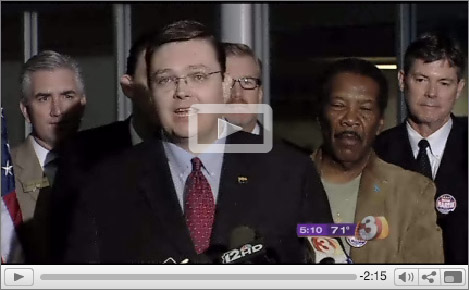 Martin: Ill stare Arizona's problems in the face